Pharmaceutical Counting Line
We manufacture efficient machines and offer primary & secondary packaging integrated lines from filling to labelling for your needs, including automatic counting line, tablet blister packing line and capsule bottle packing line. All of our machinery can be connected flexibly. If you have any other demands, we can also customize for your needs.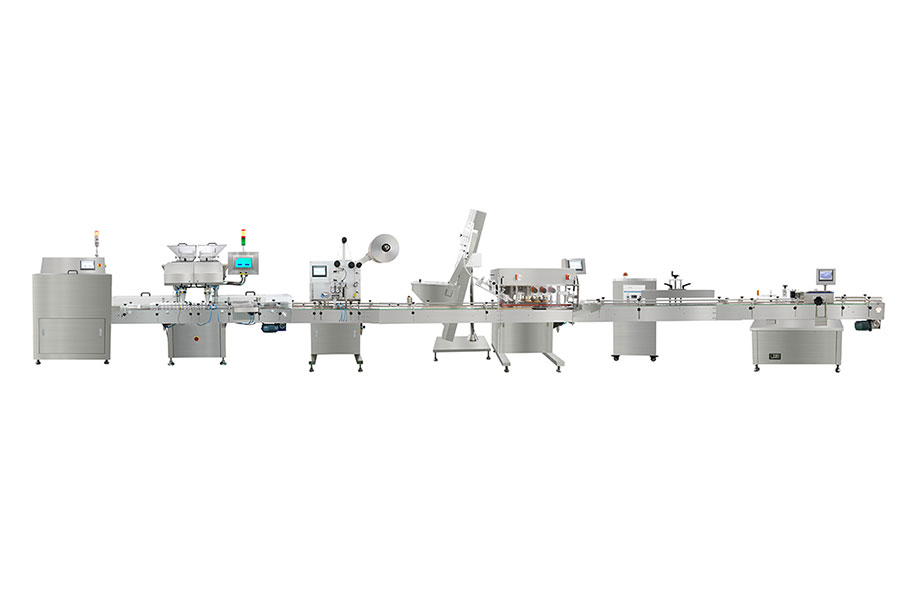 A Wise Investment for Pharma
High Level of System Intelligence
Each machine is strongly connected with a real-time monitor and detection alarm, which offer efficient and stable operation. When one step is completed, the product will be automatically transferred to the next machine to be worked on. One operator is sufficient for the whole process.
Independent Work for Changeable Demand
Your production demands may change in the future. Each equipment can work individually with an independent PLC operating system. And the separation and adjustment is fast to ensure that all production processes are synchronized and coordinated.
Small Workshop Area & Low Cost
The useable area of the workshop area is small, less than 30 square meters. The production line is cost-effective and has fewer wearing parts and low costs. A high degree of automation saves a number of labor costs.
Versitile Option and Combination
All our process machines and packing machines can be connected. Apart from our five main products, we also have some matching equipment, such as a capper machine, label Alu-foil sealing machine, etc. And those can also be matched as a product line for your needs.
From sorting bottles to labeling stickers, the automatic counting line includes everything you need to get your capsules or tablets into a container. It is intended to operate completely automatically, with only one person monitoring the entire operation.

Counting pills and filling into bottle.
Stuff the desiccant into the bottle.
Tighten the cap with anti-lock prevents excessive damage.
Seal the bottle lip with aluminum foil.
Stick a label on the body of the bottle automatically.
All the above machines will run synchronously through the PLC system after they are connected, and ensure the stability of long-term operation.
The core part of each machine in the production line adopts a modular design to achieve rapid adjustment and independent use.
The entire counting production line can achieve simple and rapid assembly and separation.
The outer frame of the complete set of machines is made of excellent 304 stainless steel, and the material contact part is made of 316 stainless steel, which fully meets GMP requirements.
Tablet/ Capsule Blister Cartoning Line
The Tablet/ Capsule Blister Cartoning Line is complete with everything you need to process and package, including form tablets & capsules, pack them with blisters, and put them into cartons.

Tablet Press Machine/ Capsule Filling Machine
Press solid ingredients in to tablet. (we can replace capsule filling machine for you.)
Seal capsules or tablets into blister plates.
Pack blister plates and instructions in boxes.
The tablet blister packing line has the features of sealing, moisture-proof, and light-proof, which can improve the standard of protection for pills. Tablet press machine, blistering machine and cartoning machine linked to one line is suitable for packaging solution in the pharmaceutical, medical equipment, health care products, food and other industries.
Capsule/ Tablet Bottle Cartoning Line
The system of Capsule/ Tablet Bottle Cartoning Line are automated and can be managed to form pills, count and fill them into a bottle and place them into boxes.

Tablet Press Machine/ Capsule Filling Machine
Fill powder or liquid into Capsule. (we can also replace tablet press machine for you.)
Count and fill the capsules or tablets into a bottle.
Pack bottles and instructions in boxes.
The capsule bottle packing line has the effect of counting, filling and cartoning tablets or capsules into a bottle then carton the bottle into box. The intelligent PLC system controls the whole production line, which is suitable for product packaging in the pharmaceutical, medical equipment, health care products, food, and other industries.
We've Got Your Back with Comprehensive Service
Stand by you through the whole process, from choosing the suitable machine to taking good care of it for life.
To ensure premium performance for a long time, we offer free repairment within 3 years and free spare parts within 1 year. After that, we promise a free technical consultation for a lifetime.
95% of our standard machines are in stock. In such case, the shipping can arrive within 7 days. As for in-depth customized products, it is only 20 days for delivery.
Our knowledgeable customer experts and engineers will target your needs and solve all your problems within 24 hours.