Automatic Counting Machine
It can count while pack all kinds of capsules, tablets and gummies into a bottle, which is suitable for scientific research institutions, hospitals, pharmaceutical factories, health products, factory production packaging. And it can also integrate with cartoning machine, labeling machine, etc.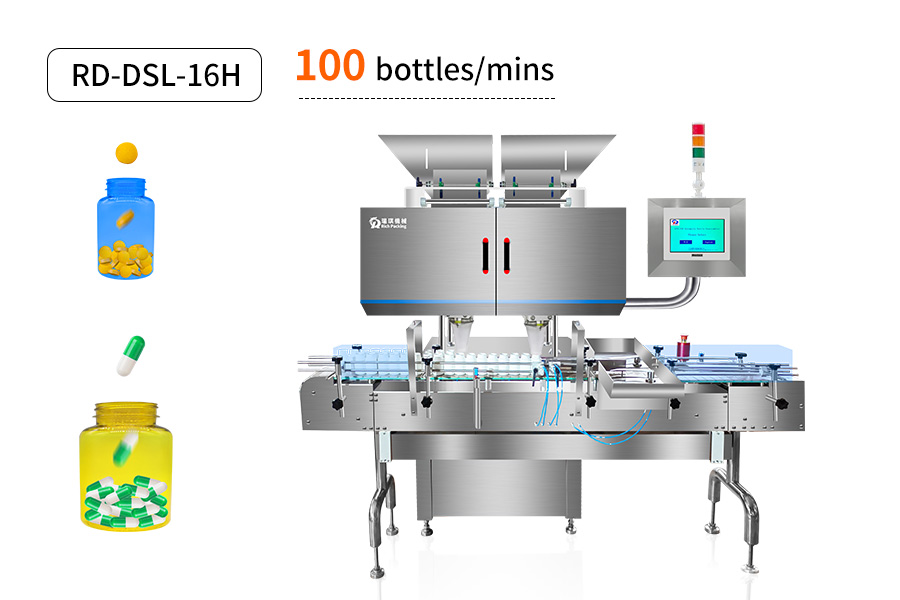 Automatic Counting Machine is suitable for various different capabilities, including capsules, tablets, gummies.
Except for just simply counting and filling tablets and capsules into bottles, Rich Packing automatic counting machine is equipped with working sections and technologies to ensure a smooth and efficient production process.
Organizing all the bottles for the preparation of filling.
Filling all the materials into the counting machine.
Lining up in channels. Capsule, tablet or gummy can be counted and filled up to 9000 bottle/h.
Injecting pills into bottle with patent technology without shortage.
Clearing those defective bottles.
The Complete Range of Automatic Counting Machines
A wide variety of machine models with different capacity and budget for you to choose from.
Model

8B

12B

16B

16R

16H

Capacity

10-35 bottles/minute

15-45 bottles/minute

20-85 bottles/minute

100 bottles/minute

127 bottles/minute

Capable Material

2-40mm Capsule/Tablet/Gummy...

Accuracy Rate

>99.8%

>99.97%

>99.98%
Need other Machine Model?
Wider Application:
Counting

Gummy, Candy…
Instead of only available for the tablet or capsules, our counting machine with special technologies can also capable of counting and filling nutrition supplements, such as vitamins, and even sticky gummy. It can extend more possibilities for your business.
Fully Automatic Counting Line
Intended to operate completely from unscrambling the bottle to labeling a sticker on it, the automatic counting line is designed to help you get your capsules or tablets in a bottle that includes everything you need without hassle. It is afforadable and suitable for a wide range of tablet sizes.
An Helping Hands for Packing Your Products
We are committed to manufacture machines with superior quality to meet GMP standards while with efficient and utility features.
Efficient without Stuck Pill
50% faster than similar models from other manufacturers and the pill won't stuck with pneumatically filling design.
The counting machine won't damage your pills in the process, which reduces the material waste and inspection labor costs.
Our dust-resistant counting machines can still operate as usual and maintain an efficient performance in a dusty condition.
Automatic Rejection Stystem
With non-compliant capsules or tablets, the whole bottle will be automatically sorted out to the side.
We've Got Your Back with Comprehensive Service
Stand by you through the whole process, from choosing the suitable machine to taking good care of it for life.
To ensure premium performance for a long time, we offer free repairment within 3 years and free spare parts within 1 year. After that, we promise a free technical consultation for a lifetime.
95% of our standard machines are in stock. In such case, the shipping can arrive within 7 days. As for in-depth customized products, it is only 20 days for delivery.
Our knowledgeable customer experts and engineers will target your needs and solve all your problems within 24 hours.
Frequently Asked Questions