Automatic Capsule Filling Machine
It can automatically finish the production process including capsule separating, filling, locking, unqualified capsule rejection, and finished products output. With the advantages of accurate loading, stable operation and no dust, our automatic capsule machine meets the GMP requirements. It is an ideal equipment for filling medicines and health care products.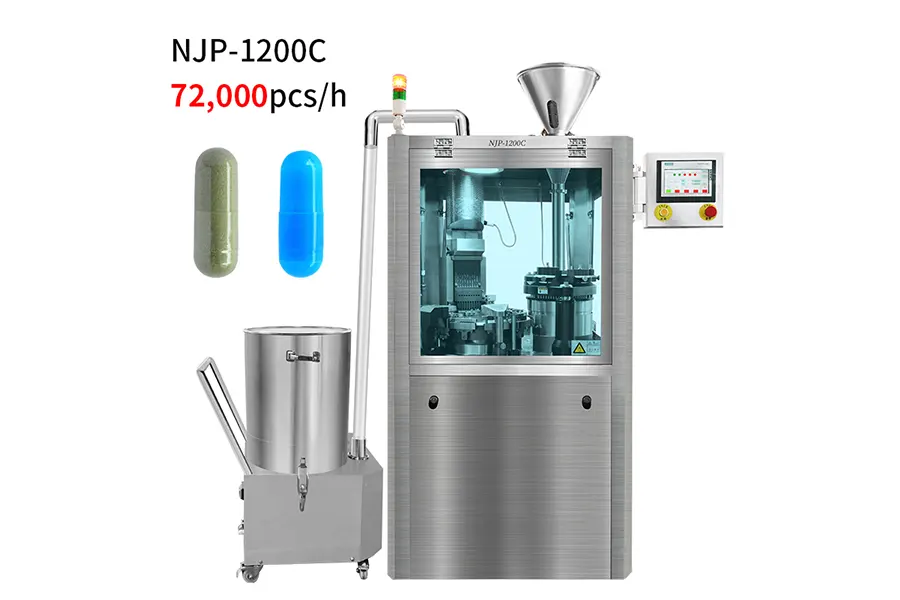 Automatic capsule filling Machine is available in 8 kinds of standard hard capsule sizes.
Capsule Size

#000

#00

#0

#1

#2

#3

#4

#5

Locked Length

26.14mm

23.30mm

21.7mm

19.4mm

18.0mm

15.9mm

14.3mm

11.1mm

Capsule Volume

1.37 ml

0.91 ml

0.68 ml

0.5 ml

0.37 ml

0.3 ml

0.21ml

0.13ml
(The filling amount may vary because of the powder difference)
How Automatic Capsule Filling Machine works?
Except for just simply injecting the solid ingredient into a capsule, rich packing, automatic capsule filling machine is equipped with working sections and technologies to ensure a smooth and efficient production process.
The empty capsules are sowed in to the filling bores and then separated in to caps and bodies using a vacuum.
The bottom of the capsule is moved around to the powder hopper and filled with the ingredients.
The top and bottom of the capsule are pushed back together.
Finally, the capsules are complete and ejected out of the machine.
The Complete Range of Automatic Capsule Filling Machines
A wide variety of machine models with different capacities and budgets for you to choose from.
Machine Model

NJP-400C

NJP-800C

NJP-1500D

NJP-2600C

NJP-3800D

NJP-5500C

Maximum Output

24000 pcs/h

48000 pcs/h

90000 pcs/h

150000 pcs/h

228000 pcs/h

330000 pcs/h

Capsule Sizes Compatibility

000,00,0,1,2,3,4,5#

Power

3KW

5KW

5.5KW

8KW

10.5KW

11KW

Weight

600Kg

900Kg

1200Kg

1500Kg

2200Kg

3000Kg

Dimension

1000×710×1900mm

1100×910×2100mm

1490×1260×2150mm

1650×1490×2150mm

1980×1850×2200mm

2400x2050x2300mm
Not sure which machine is best for you? Our team can provide a proposal based on your needs and budget!
A Wise Investment for Pharma
We are committed to manufacture machines with superior quality to meet GMP standards while with efficient and utility features.
High efficiency and performance with patent technology. Its maximum capacity can reach up to 260000 pcs/hours.
The machine shell is made of food-grade stainless steel while the chamber is sealed with organic glass away from the germs from the outside environment.
Main digital parts are used with notable and trustable brands in the market, such as Siemens, OMRON and etc. It can last for longer with proper maintenance.
With an overloaded system, the device will be stopped intelligently to avoid further damage to the equipment and operator.
We've Got Your Back with Comprehensive Service
Stand by you through the whole process, from choosing the suitable machine to taking good care of it for life.
To ensure premium performance for a long time, we offer free repairment within 3 years and free spare parts within 1 year. After that, we promise a free technical consultation for a lifetime.
95% of our standard machines are in stock. In such case, the shipping can arrive within 7 days. As for in-depth customized products, it is only 20 days for delivery.
Our knowledgeable customer experts and engineers will target your needs and solve all your problems within 24 hours.
Frequently Asked Questions
What Are Capsules Made of?
Capsules can be made of different materials depending on the type of capsule.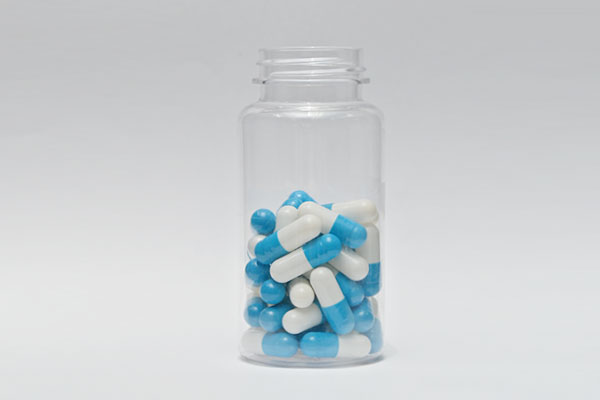 What Is the Use of Capsule?
Capsule can enclose and protect the contents inside, allowing for convenient and controlled release of the substances it contains.
Capsules are widely used to deliver medications, supplements, or herbal remedies, ensuring precise dosing and ease of consumption.
Capsules accommodate various fill materials, allowing flexibility in customizing dosage forms to meet specific patient needs and preferences.
Capsules are effective at masking the unpleasant taste or odor of substances, making it easier for patients to consume medications or supplements.
Capsules efficiently encapsulate active ingredients, including drugs, vitamins, minerals, and herbal extracts. They protect these ingredients, preserve their stability, and control their release.
Advanced capsule technologies enable the design of controlled or modified release capsules that provide sustained or targeted release of drugs, enhancing therapeutic efficacy and patient compliance.
Capsules can be customized in terms of size, shape, color, and branding, helping to differentiate products in the market and enhance brand recognition.