WIth the functions of fully automatic forming, feeding, sealing, punching, counting, and batch number coding, It can automatically seal tablets, capsules, candy, and sauces into an aluminum-plastic composite panel or aluminum plate. An ideal way to pack your product efficiently and cost-effectively.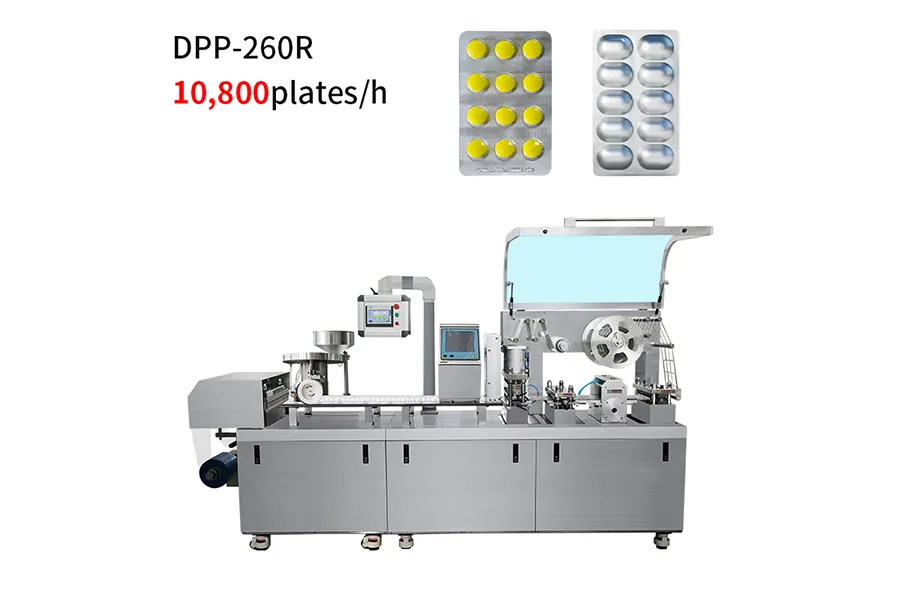 Blister Packing Machine is suitable for various different capabilities, including capsules, tablets, and liquids.
Except for just simply sealing the material into a blister plate, Rich Packing blister packing machine is equipped with several technologies to ensure a smooth and efficient production process.
PVC sheets are filled into the machine.
PVC or aluminum foil is molded into a fitted room for your product.
Tablets / capsules are filled into the available blister.
The top aluminum foil seals up the plate.
The rest of the materials are recycled for further usage.
A full blister plate is finished and ejected.
The Complete Range of Blister Packing Machines
A wide variety of machine models with different capacities and budgets for you to choose.
| | | | | | | |
| --- | --- | --- | --- | --- | --- | --- |
| Model | DPP-90R | DPP-100L | DPP-160R | DPP-260S | DPP-260R | DPH-260H |
| Output | 2300 plates/h | 2300 plates/h | 4200plates/h | 9600plates/h | 10800plates/h | 48000 plates/h |
| Max.Plate Size | 80*110*15mm | 80*110*15mm | 130*100*15mm | 250*140*15mm | 160×250*15mm | 250×250*12mm |
| Max.Depth | 26mm | 26mm | 26mm | 26mm | 26mm | 26mm |
For Tablet / Capsule and Other Solids :
For Perfume / Jam / Honey and Other Liquid :
Not sure which is best for you?
An Helping Hands for Packing Your Products
We are committed to manufacture machines with superior quality to meet GMP standards while with efficient and utility features.
Wide Range Of Materials & Applications
The Blister packing machine can be available for Aluminum, PVC, PS, PET and etc.  And it can form a clean packaging for any solid or liquid.
One Machine For Dual Performances
The machine is available for Alu-Alu foil and Alu-PVC plate, which optimizes your cost and workshop space for other machines.
Compared to the bottle, the blister pack is more cost-effective. 6 standard plates filled with 60 capsules are about 0.053 dollars, while a bottle filled with 60 capsules is 0.062 dollars.
We've Got Your Back with Comprehensive Service
Stand by you through the whole process, from choosing the suitable machine to taking good care of it for life.
To ensure premium performance for a long time, we offer free repairment within 3 years and free spare parts within 1 year. After that, we promise a free technical consultation for a lifetime.
95% of our standard machines are in stock. In such case, the shipping can arrive within 7 days. As for in-depth customized products, it is only 20 days for delivery.
Our knowledgeable customer experts and engineers will target your needs and solve all your problems within 24 hours.
Frequently Asked Questions