Liquid Capsule Filling Machine
This liquid capsule machine is fully automatic to fill and seal the liquid and other materials into empty hard capsules.
It provides a highly active and insoluble pharmaceutical solution for packaging liquid materials for many large and small pharmaceutical companies and health care products manufacturers.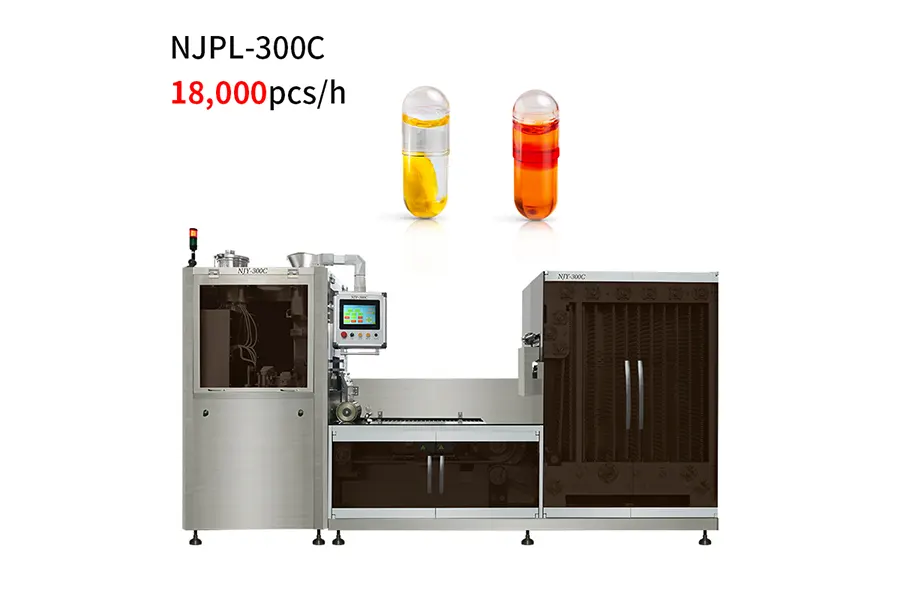 Liquid capsule filling machine is available in 8 kinds of standard capsule sizes.
Capsule Size

#00

#0

#1

#2

#3

Locked Length

23.30mm

21.7mm

19.4mm

18.0mm

15.9mm

Capsule Volume

0.91 ml

0.68 ml

0.5 ml

0.37 ml

0.3 ml
(The filling amount may vary because of the powder difference)
Except for just simply injecting the liquid ingredient into a capsule, rich packing liquid capsule filling machine is equipped with working sections and technologies to ensure a smooth and efficient production process.
Defective Capsules Ejection
The Complete Range of Liquid Capsule Filling Machines
A wide variety of machine models with different capacities and budgets for you to choose from.
Model

CGNL-300

NJPL-100C

NJPL-300C

NJPL-600C

Output

15000-28000pcs/h

100 pcs/min

300 pcs/min

600 pcs/min

Capsule Sizes Compatibility

00#、0#、1#、2#、3#

Total Power

2.12kw

3.5KW

5KW

6KW

Power

380/220V 50Hz(customizable)

Weight

400KG

500KG

750KG

900KG

Dimension (L*W*H)

1300*800*1750mm

700*800*1700mm

860*960*1800mm

960*1000*1900mm
Not sure which machine is best for you? Our team can provide a proposal based on your needs and budget!
A Wise Investment for Pharma
We are committed to manufacture machines with superior quality to meet GMP standards while with efficient and utility features.
With Japan's Yaskawa servo motor, the error of liquid injection is less than 2%. The problem of unevenness caused by the sticky material of is well solved by the ceramic pump.
Equipped with the corresponding sealing liquid according to the type of capsule used by the customer, the sealing is tight and no leakage.
The rotary design to obtain a patent for utility model. SIL silicone sealing ring effectively prevents liquid into the internal turntable and dust overflow pollution.
All the parts that contact ingredients directly are made of Medical-grade stainless steel 316L, and the output device adopts seven lines with aero aluminum.
We've Got Your Back with Comprehensive Service
Stand by you through the whole process, from choosing the suitable machine to taking good care of it for life.
To ensure premium performance for a long time, we offer free repairment within 3 years and free spare parts within 1 year. After that, we promise a free technical consultation for a lifetime.
95% of our standard machines are in stock. In such case, the shipping can arrive within 7 days. As for in-depth customized products, it is only 20 days for delivery.
Our knowledgeable customer experts and engineers will target your needs and solve all your problems within 24 hours.
The Main Structure of Liquid Capule Machine
The machine adopts the internationally famous human-machine interface PLC control system, and the PLC real-time monitoring of the whole operation process is realized, and the automatic capsule and material shortage alarms are realized.
Empty Capsule Filling System
The specially configured capsule feeding machine has a vacuum positioning and separation mechanism to ensure that the capsule loading rate is over 99.5%.
The accuracy of dosage adopts the liquid adding system of servo motor and high-precision ceramic pump to ensure that the difference of capsule material filling quantity is controlled less than 2%.
The sealing mechanism of the liquid capsule product adopts a servo motor to control the lifting function, which realizes the up and down jog and the fine adjustment of the rubber wheel, and realizes the best effect of the liquid sealing layer.
The sealing structure is designed in the liquid sealing tank, and the heating and heat preservation system is equipped to ensure the viscosity of the capsule glue.
The drying mode of the liquid hard capsule finished product adopts a vertical suspension and free rotation structure, which reduces the drying time of the capsule and the installation, disassembly and cleaning time of the capsule filling machine by 50%.
Frequently Asked Questions
Here are some main specifics that you need to consider, such as capsule size and type, applicable ingredient, production capacity, machine size, and warranty. Due to the cost of the machine is a huge budget, a complete and long aftersale service can help a lot for a long run business.
CE: Conformite Europeenne GMP: Good Manufacturing Practices ISO: International Standards Organization FDA: Food and Drug Administration
Lubricate cam regularly to keep it in good condition.
Disassemble and clean the filling station to clear the excess material to prevent blockage and rust, after the production is finished.
Add lubricating oil to the vacuum pump regularly and clean up the dust.
Fill enough water over half of the barrel body in water tank regularly.